What would you like to do today?
Plaster: We pour all of our plaster pieces. They are most popular with children and visitors from out of town who cannot return for fired ceramics. Children of all ages can paint plaster. Plaster pieces are painted with non-toxic acrylic paints and sprayed with a clear sealer. We also offer glitter for our plaster pieces. Prices for plaster range from $1 - $10
.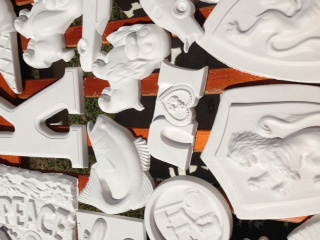 Ceramics: Ceramic pieces can be painted with underglazes and fired or painted with acrylics and sprayed. Functional ceramics such as plates, cups, bowls and vases must be fired so they can hold food and water. Figurines, banks and boxes can be painted with glazes to fire or acrylics and sprayed. Firing for ceramics normally takes up to one week. During a very busy season such as Christmas it may take longer, so plan your projects a week or so ahead of an event. Ceramic underglazes are non-toxic and very washable. Prices for fired ceramics range from $10 ornaments to $12 mugs to $40 platters and $55 Christmas trees.
Mosaics: Mosaics are like jigsaw puzzles. First, choose your base: a tile, coaster, frame, or one of our wooden shapes. Next, arrange glass mosaic tiles on your piece and glue with non-toxic glue. Tiles should be spaced closely together but not touching. Last, leave your creation for grouting or resin.
Clay: We love clay! We offer clay hand-building on a walk in basis or as a class for your group. Make ornaments, plaques, signs, pinch pots, slab dishes or small sculptures. $15 includes clay and one firing. We also offer the pottery wheel by appointment at our Cagan Crossings store. Pottery Wheel time includes instruction, 1-2 pieces and one firing. Recommended ages 8 through adult. Painting and glazing fired clay pieces will require a second session.